Biological Standards, Assays, Preclinical, and Immunology Team
Biological Standards, Assays, Preclinical, and Immunology Team is one of the six teams organized under CEPI's Research and Development Directorate. The team mainly focuses on enabling science activities to support CEPI's vaccine development projects through cross cutting activities. The activities are focused on providing knowledge, material, and capacity beneficial to the vaccine development projects. The focus areas are as follows:
Development of biological standards and assays for measuring vaccine induced immune responses
Preclinical support to vaccine development projects
Facilitate centralized testing of samples from pre-clinical and clinical phase (COVID-19)
Facilitate testing of vaccines in animal models in CEPI's designated facilities
Coordinate working groups focused on preclinical models and reagents/assays in WHO (COVID-19)
A brief introduction of the activities for each focus area is described below.
1. Biological Standards and Assays
Biological standards are extremely important to the regulatory process. They can expedite regulatory approval, improve collaboration between regulatory groups, support joint reviews and common processes, and enable scientific evaluation and exchange during the vaccine development process. Facilitation of such collaboration is often done through workshops and committee meetings where public regulatory and advisory groups are included.
The use of standardized reagents at the non-clinical and clinical level advances outcomes and satisfies regulatory requirements. The use of standardized reagents is critical for generating reproducible and relevant data that can support product licensure, especially when different candidate vaccines are compared. In addition, the use of standardized reagents in clinical studies makes results easier to evaluate across sponsors. Standards early in the development can be of great help for the pre-clinical stage as well as for the different clinical phases of vaccine evaluation, including the comparison of product performance.
CEPI has established a Working Group for Standardizations and Assays together with WHO, and established task forces for each of CEPI's priority pathogens.
Lassa
CEPI has signed three partnership agreements for the development, production, and distribution of Lassa virus-specific International Antibody Standard, antigens, and neutralizing monoclonal antibodies.
The Viral Hemorrhagic Fever Consortium (VHFC) and Bernard Nocht
Institute for Tropical Medicine (BNITM) have collected sera from convalescent patients from different geographical locations in West Africa which are suitable for the development of an International antibody standard available in Q2/2021. In collaboration with the National Institute of Biological Standards and Control (NIBSC), where the material is stored, CEPI is making available to CEPI vaccine developers a working antibody standard and reference panels helpful for assay development. VHFC has also been tasked to produce and distribute Lassa antigens (GP, NP, Z) and neutralizing monoclonal antibodies and ELISA kits to CEPI vaccine developers.
Middle East Respiratory Syndrome Coronavirus (MERS-CoV)
CEPI has established a partnership with the International Vaccine Institute (IVI), and funded a project to collect serum from individuals that recovered from MERS-CoV infection during the 2015 outbreak in the Republic of Korea. The patient sera were sent to NIBSC to develop a working MERS-CoV antibody standard, which is available for vaccine developers and the scientific community as of March 2020. The same material will also serve to establish a WHO International Standard for antibodies to MERS-CoV. The international standard will be essential for evaluating and comparing the antibody responses induced by MERS-CoV vaccine candidates.
To support MERS-CoV vaccine development, IAVI have conducted a review of MERS-CoV standards, assays and animal models with support from CEPI and NIH/NIAID. The report is available here: MERS-CoV Standards, Assays and Animal Models for Vaccine Development Landscape Analysis
SARS-CoV-2
NIBSC has been tasked for the development of International Antibody Standard and reference panels for Covid-19. The ultimate goal and status for a standard is to be designated an International Reference Preparation (IRP), as regulated by the WHO Expert Committee on Biological Standardization (ECBS). Developing, characterizing, and demonstrating that a standard is fit for purpose usually takes 36 months or longer and requires inter-laboratory comparison studies and formal stability testing. With the support of NIBSC, CEPI is also developing immunological assays (virus neutralization and ELISA) for vaccine developers.
Nipah
CEPI aims to establish partnerships to facilitate the development of robust immunogenicity assays and preclinical models for Nipah virus. CEPI is grateful to NIAID for their collaboration in updating the 2021 Landscape Analysis supporting these efforts.
Rift Valley Fever, Chikungunya
Similar efforts are currently under development for CEPI's other priority pathogens. Of interest, CEPI will soon launch a Call for Proposal for the collection and analysis of serum from patients who have recovered from Rift Valley with the aim to develop an antibody standard.
2. Centralized laboratory Network
Comparing immune responses against different potential SARS-CoV-2 vaccine candidates is challenging. Biological variation and technical differences (how and where specimens are collected, transported, stored, and analyzed) impacts the quality and usefulness of the data produced and makes comparisons between measurements in individual laboratories difficult. Moreover, SARS-CoV-2 vaccine candidates worldwide include different technology platforms (e.g. recombinant viral vectors, live attenuated vaccines, recombinant proteins, and nucleic acids), and the evaluation of the true potential for each of the vaccine formulations is very complex. In order to reduce some of this complexity, better compare the immunological profile of each vaccine candidate, and provide robust assays for regulatory purposes, CEPI has created a network of laboratories that will be able to test the immune response elicited by different vaccines in preclinical studies as well as Phase I-III clinical studies using common protocols and key reagents. In the near future the facilities will provide the same services to support vaccine development against one or more of CEPI's priority diseases – Chikungunya, Lassa virus, MERS, Nipah, Rift Valley Fever, SARS-CoV-2. CEPI is currently supporting the development of multiple vaccines against these high-risk pathogens, identified on the World Health Organization R&D Blueprint as having epidemic potential or as a major public health risk.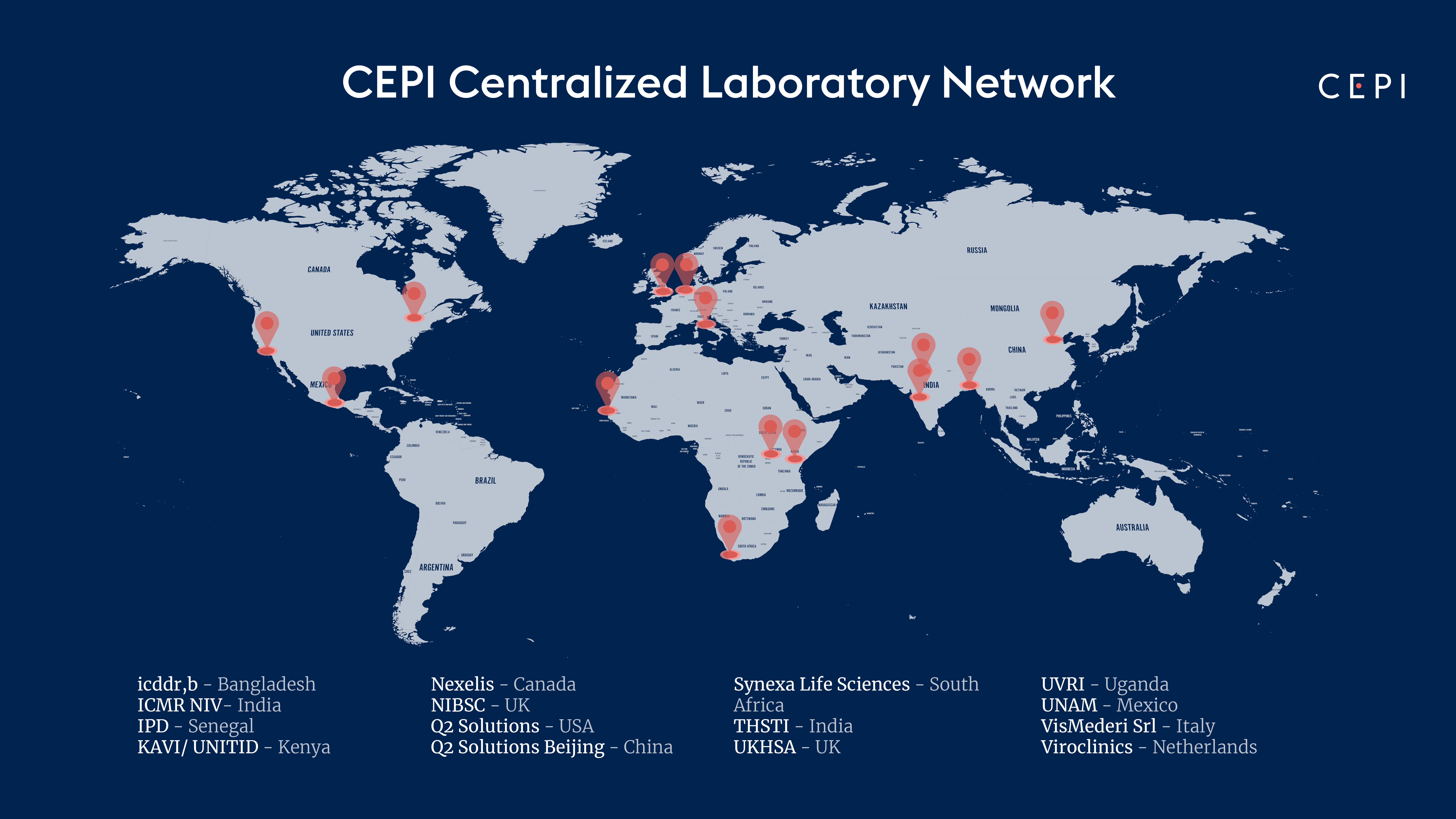 3. Preclinical model development and testing
CEPI has established a network of high-containment laboratories (BSL-3 and -4) for testing of vaccines against our priority pathogens in preclinical models. Our laboratory partners have been selected based on their scientific excellence, their robust quality systems, and their strong ethical practices. To date, we have established partnership agreements with Public Health England, NIBSC, Wageningen University, University of Pittsburgh, and CSIRO, and have a number of other partnerships still under negotiation.
CEPI commissions the laboratories to establish preclinical models of infection/disease. If necessary, we also commission production of well-characterized virus stock to be used as challenge material, and the development and qualification of any assays that will be needed to evaluate the model. Once natural history models of infection and disease have been established, they are used to evaluate efficacy of the vaccines under development. The studies are conducted under Quality systems in order to produce data suitable for submission to regulatory authorities in support of product licensure.
The majority of the work in this area has focused on preclinical models for COVID-19, but we also intend to commission work on Nipah, MERS, and Rift Valley Fever models in the near future.
COVID-19
CEPI is leveraging the expertise of the WHO Blueprint working group that focuses on COVID-19 disease modelling to inform the model development we are sponsoring. The public minutes of this group are found on the WHO website. The information shared in this forum has been extremely useful to avoid duplication of efforts and make rapid progress toward establishment of suitable models with relevant and quantifiable clinical signs, symptoms, and pathology. Several CEPI-funded vaccine candidates are already being tested by our laboratory partners for their efficacy in preventing disease in both small and large preclinical models and to rule out the potential for vaccine-enhanced disease. This work is unfolding in parallel with Phase I clinical trials.
4. Diagnostics
The diagnostics workstream is a program to enable the development of vaccines in the CEPI vaccine development partnerships. The main objective of the diagnostics work is to support the Epidemiology and Clinical development teams in implementing their workplans and to address the diagnostic gaps to prepare for Phase IIb/ III testing.
Current data on diagnostic landscaping has shown diagnostic gaps and needs for Nipah, MERS, Chikungunya, RVF, and COVID-19 vaccine development. For all these pathogens, there are both PCR and IgG/IgM ELISA tests that are commercially available in addition to inhouse assays, however, none of these tests have been validated by independent laboratories. CEPI needs highly sensitive, specific, and validated molecular and serology assays for developing vaccines against its target diseases.
CEPI targets partnerships and coordination as a primary approach to facilitate validation/evaluation of essential diagnostics. The modalities of partner engagement could be through processing request for information (RFI), request for proposal (RFP), or establishing a memorandum of understanding with a purposefully selected partner/s. Given the urgency of vaccine development needs, a balance between efficiency and transparency has been applied.
Current diagnostic activities
Collaboration with FIND
The CEPI-FIND collaboration was officially started during the 2018 Lassa outbreak in Nigeria. CEPI provided FIND catalytic funding (MUSD 1) to jumpstart Lassa diagnostic development and secured an additional MUSD 4.2 for FIND from the German Government. These investments were aimed at the validation of a molecular test for case confirmation that will be used in the upcoming Lassa fever epidemiology programme and future phase III trials for Lassa fever vaccine. The ongoing CEPI-FIND collaboration will further enable 1) validation of diagnostics for case confirmation and identification of previous exposure (molecular that will be needed for epidemiological studies and clinical trials; 2) clinical trial site development; and 3) sample collection and archiving. CEPI is also interacting with other partners such as PATH to explore future collaborations.
For comments or inquiries please write to epi@tghn.org